New version of BAZO
Without beating around the bush – the latest version of BAZO is simply faster. This is thanks to some clever technologies that we used to rewrite the application and add new features.
Have you heard of Single Page Application? From now on, BAZO uses this technology. Thanks to it, most operations on BAZO will be performing in the background, removing the need to constantly reload any page. This definitely will speed up the use of the service. You may also notice that BAZO runs more smoothly.
We wanted to make the application more user-friendly. For this purpose, our team used Progressive Web App technology. Now, PWA will allow you to install a shortcut to BAZO on your desktop and use it just like a regular program or application. Access to recognized companies with just one click? Here you go.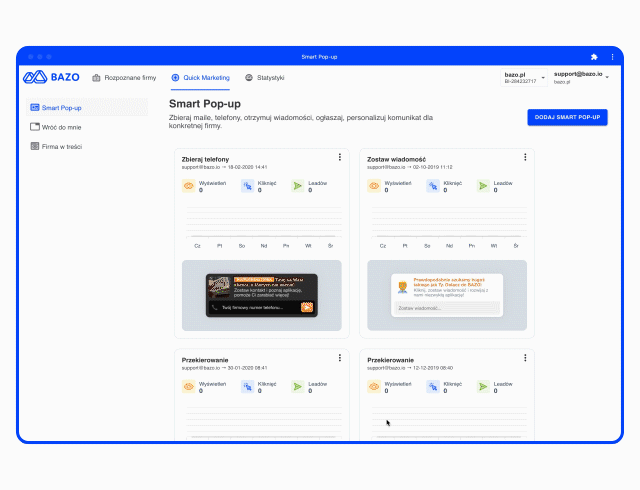 Automatations swifter than ever before!
We wanted Smart Pop-ups to be one of the fastest solutions on the market. The latest update brings a lot of changes to the pop-up list view. Now, automations statistics are available from convenient tiles – graphs of pop-up effectiveness and goal achievements will now be clearer, and the automations creation will be simply faster!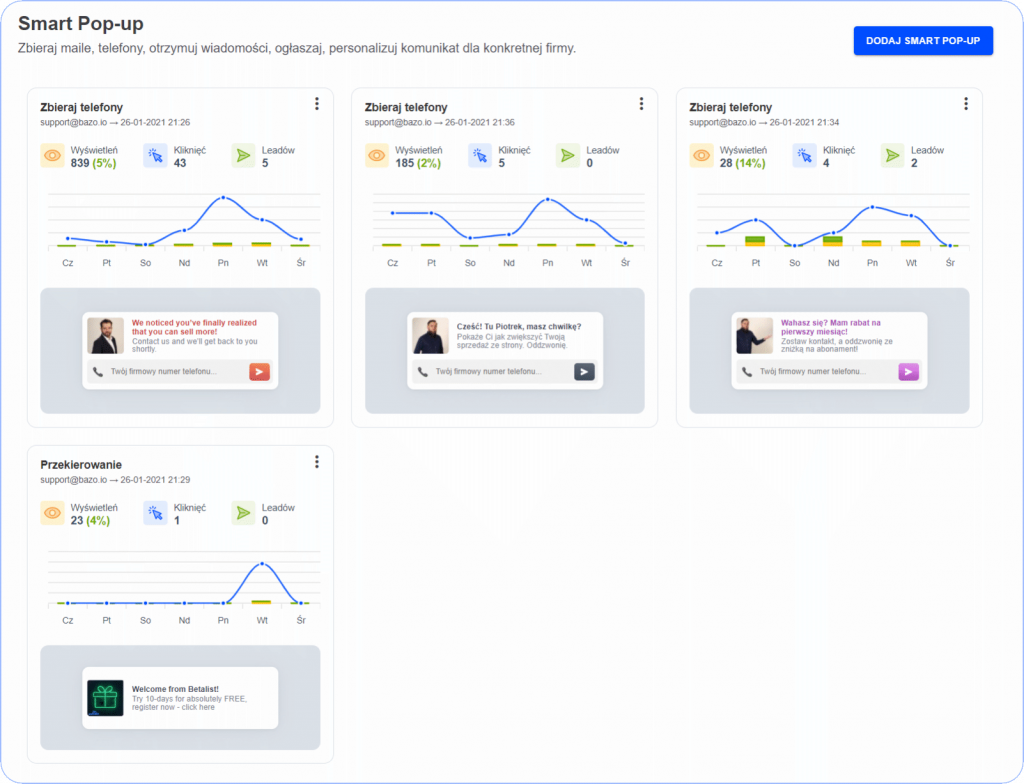 You' ll be thrilled to learn that in the automation details you can now find a list of all contacts or messages that have been forwarded by your website users so far! All the hot leads in one place, available at a glance! You can export each list to an XLS file and pass it on to your salespeople. Handy, huh?
A new feature has arrived. It'll appeal especially to those who create several pop-ups per week: from now on you can duplicate your pop-ups! Simply copy an existing message, modify its parameters, content or target… and that's it! Now it takes less than 5 minutes to create 10 pop-ups. Tested!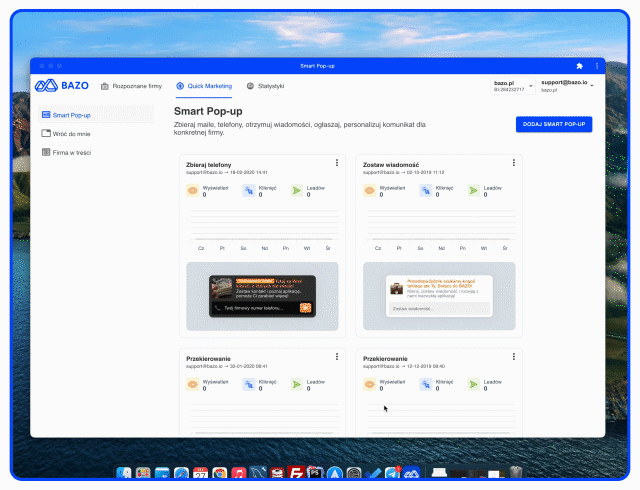 We also know that digging through a database of gifs to find the best ones isn't easy. We've added Favorites: Now the 10 most recently selected animations will be available at the top of the list, so you won't lose your pearls from the bank so easily anymore!
We've gone through all of your submissions related to the Pop-Up Creator. We've removed a lot of bugs and inaccuracies. It should now work better and smoother. In addition, the error messages are now much clearer, so if something crashes when creating a pop-up, you'll no longer be confused about what's at fault.
To make pop-ups work faster, we've considerably slimmed down the code. Only the bare minimum is left, which does not affect the speed of your website.
New version of tailor-made packages by bazo!
The last 3 years have shown us that at BAZO we need to be flexible to meet your expectations 100%. So we decided to split the application into many smaller products so that you can decide what gives you value and most benefits. Why pay for something you don't use?
From now on, there is nothing stopping you from using only pop-ups or the Recognized Companies module in BAZO. If you only need one automation, simply choose the right package with minimal access to Quick Marketing. We will adjust to your needs like never before!
Minor changes and much more
Above you'll find the most important changes that we have managed to implement. Of course, that is not all! We have refreshed for example the scopes of Administrator and Employee rights in the application, optimized the list of recognised companies and updated the algorithm.
Log in and check out all the changes in your User Panel! 👈