Turn anonymous traffic to your website into sales prospects
BAZO identifies companies visiting your website. Your sales team will easily turn them into new customers!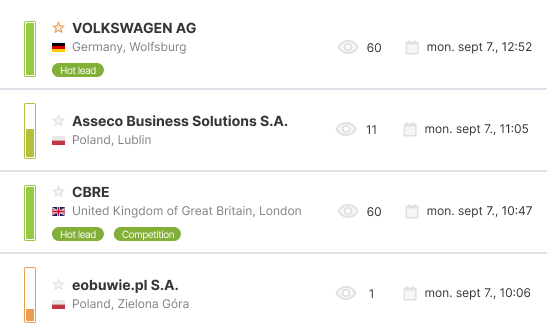 Check it out for free or schedule a demo!
Join the representatives of contemporary sales!
43% of traffic recognized
as valuable organizations

thousands of trainings and courses
sold with the help of BAZO

hundreds of precious
leads added to the funnel

295 users
scheduled a free audit thanks to automation

Functions you'll love
Identification - we will tell you which companies and organizations are visiting your website. You will collect their contact information, website address, get to know their frequency of visits or entries' source.

Filtering - sift from your Recognized Companies list only those that meet your criteria: new contacts, visits from a selected time period, companies from a specific city, country, or even those that visited a certain page section on your website!

Visits History - complete history of visits even if you fail to identify the visit as a business. Find out what your website visitors need and get back to them with the right offer, at the right time.

Deepen information functions - get more information about a company visiting your page. See what the search engine finds out about it and display a list of all employees on LinkedIn.
Many more valuable features!
Label your leads
Nothing will escape your attention if you keep your leads properly tagged and described. Use the tagging feature, create notes next to your contacts, and add to favorites the ones you absolutely have to keep an eye on.
Ask for contact information
The most effective way to attract contacts to your website. Create an instant form by yourself, which will collect contacts interested in your offer. Collect phone numbers and emails to fill your funnel with new customers.
Export and integrate
All the data Bazo acquires for you, can be easily pulled out in a CSV or XLS file and taken with you to a scheduled meeting. If you need information from BAZO elsewhere, send it there using the Zapier integration. Inform your employees about new contacts on Slack, or send new leads directly to your favorite CRM!
Build relations during the first visit
Use the name of the companies identified on the website in an unusual way: automatically include it in the content on your website or inside the forms you create. Personalize your communication and make a good first impression!
Sign up and start your 10-day free trial!